Grandfamilies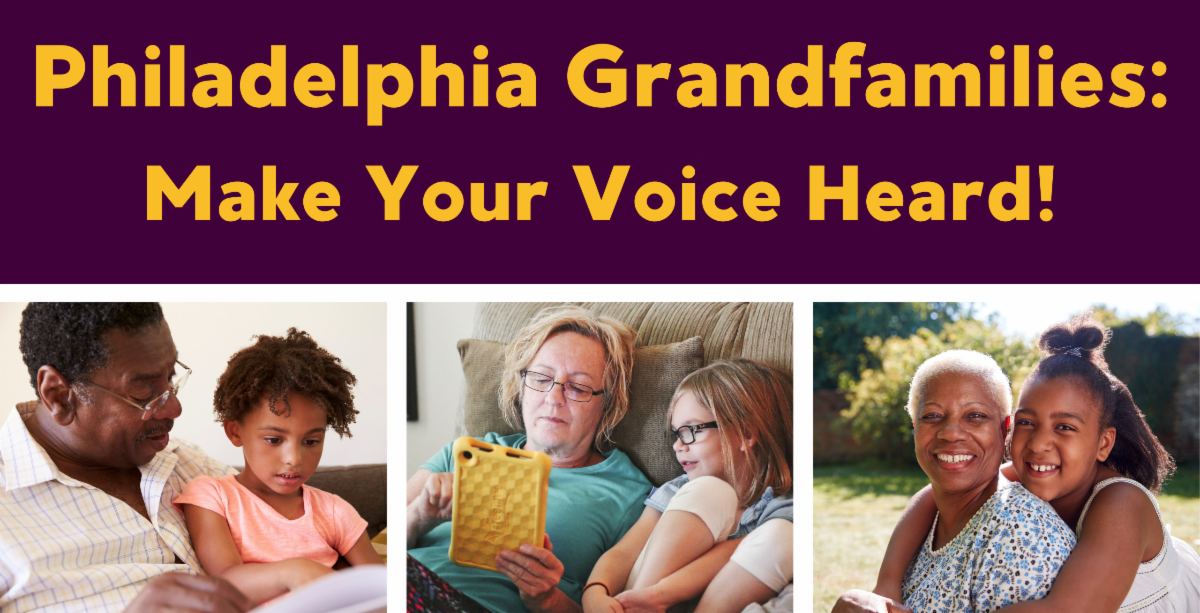 Are you raising your grandchildren in Philadelphia?
Generations United, nonprofit agency based in Washington, DC that seeks to improve the lives of children, youth, and older adults through intergenerational programs, policies, and strategies across the country, is conducting the Grandfamilies Project of Philadelphia. This project, with support from the William Penn Foundation, will survey grandparents raising their grandchildren in the Philadelphia area for the purpose of learning about their needs, strengths, resources, and challenges as well as how they are coping with the demands of the COVID-19 pandemic.
This project will identify:
The reasons leading to persons' deciding to raise their grandchildren
The challenges they face, as well as their strengths
The availability of services and support for them
And, the degree to which families are aware of and able to access helpful services.
The results of this project will inform the William Penn Foundation and community/government agencies on how they can use their resources to help Philadelphia grandfamilies.
If you are a grandparent raising a grandchild who attends a Philadelphia public school, you are invited to take part in the project!
There are two ways to participate:
Take an online survey* and receive $35 Amazon gift card. The survey is anonymous; the only place your personal information will be asked for is for staff to send you your gift card via email or mail. Paper copies can be requested by emailing sac@philasd.org.Please be sure to write the School District of Philadelphia as the agency that referred you to the survey.
Take the Grandfamilies Survey Here by October 30
A phone interview to take place in Fall/Winter 2020 with a member of the Grandfamilies of Philadelphia Project staff. Participants will receive a $75 Amazon gift card.This will be capped at 15 participants. Information will be collected to contact you and send your gift card, but your responses will be merged with those of other grandfamily caregivers.
Provide Contact Information HERE by October 30
*If you or someone you know would like to take the survey in Spanish, please contact Generations United at grandsurvey@gu.org or 202-289-3979.
Have questions about the Grandfamilies of Philadelphia Project or the surveys?
If you have any questions about the project or your participation in this project, please contact the Grandfamilies of Philadelphia Project staff by emailing grandsurvey@gu.org or by calling 202-289-3979.
Please Note: This research is being conducted by Generations United, not by the School District of Philadelphia. The School District of Philadelphia will not have access to any participant responses.