Nebinger Parent Volunteers
Nebinger Parent Volunteers
Parent volunteers are an important part of the Nebinger community, they are a resource for teachers and staff, improve the students' educational experience, and demonstrate to the children the importance of donating time for an important cause. The service of volunteers helps reinforce the relationship between the school and the community.
Volunteering at the school is fun, rewarding, and something your kids will be proud of.
---
Upcoming Volunteer Opportunities
From picture day to community events and the book fair, there is something for everyone! Click the SignUpGenius link below to sign up for volunteering at upcoming Nebinger events. Thank you!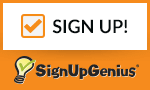 ---
The Nebinger Library is another great volunteer opportunity. If you would like to get involved, please email the school to be put in touch with the volunteer coordinator.
Please note that clearances are needed for any volunteering that takes place during the school day and to chaperone field trips. Please visit this link to complete the required paperwork.
Questions on volunteering and clearances? The PTA will be happy to assist you!
Thank you for your interest in volunteering at Nebinger! Please do not hesitate to contact me with any questions or comments.
Principal Ayana Townsend